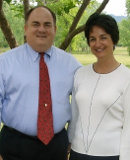 Submitted by administrator on February 18, 2013 - 12:08pm
My wife and I have been depending on Joe Bedwell as our financial advisor for about 15 years. We also became Infinite Banking clients several years ago. Through this system, we have paid off over half a million dollars in investment property mortgages and hve funded several loans for equipment and other needs to the corporation that we own. Best of all, we are now happily repaying the Bank of Kerry and Lisa Couch and today, we enjoy the freedom of not having to borrow any money from any traditional banks.
President, Nashville Computer, Inc.